Comment by Jim Campbell, Citizen Journalist and Patriot.
Radical Islam is like a metastatic tumor on the world. 
Think of the number of people who would be alive today if this cult was wiped off the face of the earth.
It is the goal of the Muslim Brotherhood to have Islam and the will of Allah be the only law and "religion" in the world.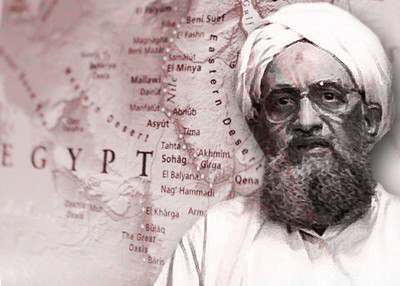 This of course is inconsistent with our Constitution, thus we will continue to fight Islam and jihadists on our terms at our time and in their location.
That's my story and I'm sticking to it, I'm J.C. and I approve this message.
by Raymond Ibrahim
Special to International Project on Terrorism


Around 1985, current al-Qaeda leader Ayman al-Zawahiri fled his homeland of Egypt, presumably never to return. From his early beginnings as a teenage leader of a small jihadi cell devoted to overthrowing Egyptian regimes (first Nasser's then Sadat's) until he merged forces with Osama bin Laden, expanding his objectives to include targeting the United States of America, Zawahiri never forgot his original objective: transforming Egypt into an Islamist state that upholds and enforces the totality of Sharia law, and that works towards the resurrection of a global caliphate.
This vision is on its way to being fulfilled. With Islamist political victories, culminating with a Muslim Brotherhood president, Muhammad Morsi, Egypt is taking the first major steps to becoming the sort of state Zawahiri wished to see. Zawahiri regularly congratulates Egypt's Islamists—most recently the attacks on the U.S. embassy in Cairo—urging them to continue Islamizing the Middle East's most strategic nation.
He sent a lengthy communiqué during the Egyptian revolution in February 2011, for example, titled "Messages of Hope and Glad Tidings to our People in Egypt." In it, he reiterated themes widely popularized by al-Qaeda, including: secular regimes are the enemies of Islam; democracy is a sham; Sharia must be instituted; the U.S. and the "Zionist enemy" are the true source behind all of the Islamic world's ills.  (complete article below)